CEXs and DEXs - What's the difference?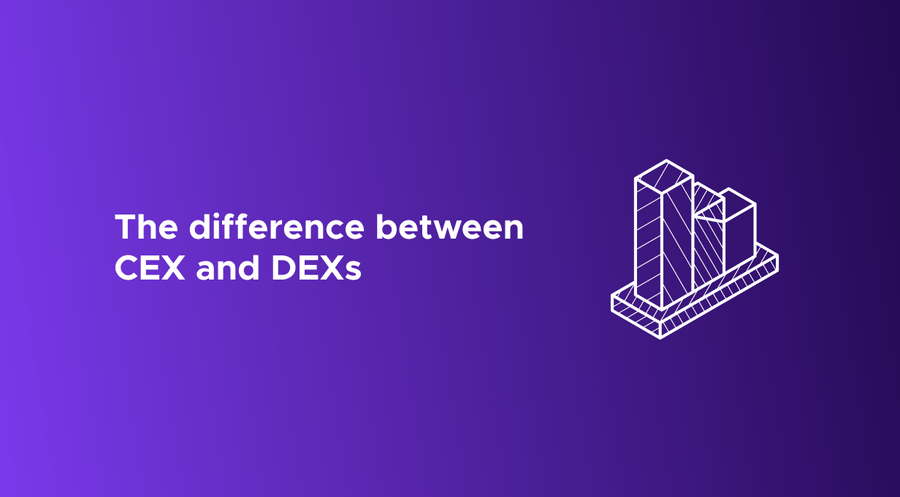 Last Updated: September 29 2023
What is a CEX?
A Centralized Exchange (CEX) is a platform where users can trade cryptocurrencies, with an intermediary controlling the process in a centralized manner. These exchanges are similar in design to traditional brokerages; the intermediary controls the management process and facilitates all of the trades happening on the platform. CEXs work by having their users confirm their desire to buy, sell or trade a certain amount of tokens at a certain price; the intermediary (i.e. the company that runs the CEX) is then required to process these requests as soon as all relevant conditions are met. As a result of CEXs being run by a centralized intermediary, it makes it possible for them to support fiat to crypto on and off ramps. This means that users can exchange their fiat currency for cryptocurrency, and vice-versa.
How to trade on a CEX
To get started trading on a CEX, users will have to go through the signup process of their platform of choice. This process generally involves KYC (Know Your Customer), where the user will be prompted to enter their email, phone number, address and other personal information. Oftentimes, CEXs will require an additional layer of identity verification to exchange values above a certain limit. Once your account has been created, you will be able to engage with the platform.
Some examples of CEXs you can get started trading on are:
What is a DEX?
So now that we've outlined just what a CEX is, let's dive into their alter-ego: the DEX.
A Decentralized exchange (DEX) is a platform where users can trade cryptocurrencies. DEXs are built on non-custodial frameworks, meaning that there is no intermediary, and users engage freely on a peer-to-peer basis. This means that users rely solely on the blockchain technology on which the DEX is built to perform any actions. For example, if a user confirms a swap of ETH for BTC, the DEX will have a smart contract in place that executes this swap once all the necessary requirements are fulfilled. DEXs have grown in popularity as they don't require any identity verification to get started (or even list your own token!); anyone with access to a cryptocurrency wallet can participate.
How to trade on a DEX
Using a decentralized exchange does not involve a sign-up process, so you don't need even an email address to get started. Anyone with a cryptocurrency wallet that is compatible with the chain on which the DEX is built will be able to access the platform. In most cases, a user will be prompted to connect their wallet with the platform they're using and after doing so, can begin trading.
Some examples of DEXs you can get started trading on are:
Tax and Centralized Exchanges
As outlined earlier in this article, CEXs require users to engage in a thorough sign-up process where the company running the CEX collects their personal information. As a result of the movement for increased regulation on crypto activity, centralized exchanges are beginning to adhere to compliance processes between themselves and regulatory bodies, working to ensure their users stay tax compliant. In the example of Coinbase, they have been working with the US government to send out 1099 forms to all their US-based users so that both the government and the users are aware of their tax obligations.
Most centralized exchanges give their users the ability to download their transaction history, usually in a CSV format. This downloadable report can then be uploaded into CryptoTaxCalculator, giving users a full overview of their trading history, gains, losses and/or income earned in the past financial year.
Tax and Decentralized Exchanges
With the decentralized nature of DEXs, there is often no organized provision for users to go in and download their transaction history (as with the majority of large centralized exchanges). As there is no intermediary, this can also often mean that there's no direct interaction between the DEX and tax regulatory bodies. However, this doesn't mean that your activity on DEXs is magically tax-free! In most regions, even a crypto-to-crypto swap is considered a taxable event and therefore should be tracked.
Without a way to collect your transaction history from a DEX, users can be faced with issues when making an effort to stay tax compliant. That's where we come in! We've built integrations with many DEXs, to ensure that working on your crypto taxes is as easy as importing the wallet address you've interacted with the DEX on and categorizing any outstanding transactions.
How to Upload your CEX/DEX Data to CryptoTaxCalculator
At CryptoTaxCalculator, we aim to make doing your crypto taxes easier - whether you've been trading on a CEX, a DEX, or both!
To import your data from a CEX, there are generally two options available for you. The first is to use your API keys: if our platform has an integration with the particular CEX you've been trading on, you'll be able to find instructions on how to import via API keys when going through the 'Import Data' step. The second is to use a CSV file: as mentioned earlier in this article, most major CEXs will give users the opportunity to download their transaction history in the form of a CSV file. On CryptoTaxCalculator, you can use this CSV file to import your data directly into the app.
To import your data from a DEX, you'll need to provide the wallet address you used to trade on the DEX during the 'Import Data' step. Use the search bar to find the name of the DEX you've been trading on, and pop your address in. Our platform will then be able to pull in all your trades from the specific wallet address.
The information provided on this website is general in nature and is not tax, accounting or legal advice. It has been prepared without taking into account your objectives, financial situation or needs. Before acting on this information, you should consider the appropriateness of the information having regard to your own objectives, financial situation and needs and seek professional advice. Cryptotaxcalculator disclaims all and any guarantees, undertakings and warranties, expressed or implied, and is not liable for any loss or damage whatsoever (including human or computer error, negligent or otherwise, or incidental or Consequential Loss or damage) arising out of, or in connection with, any use or reliance on the information or advice in this website. The user must accept sole responsibility associated with the use of the material on this site, irrespective of the purpose for which such use or results are applied. The information in this website is no substitute for specialist advice.