IRS updates crypto question on Form 1040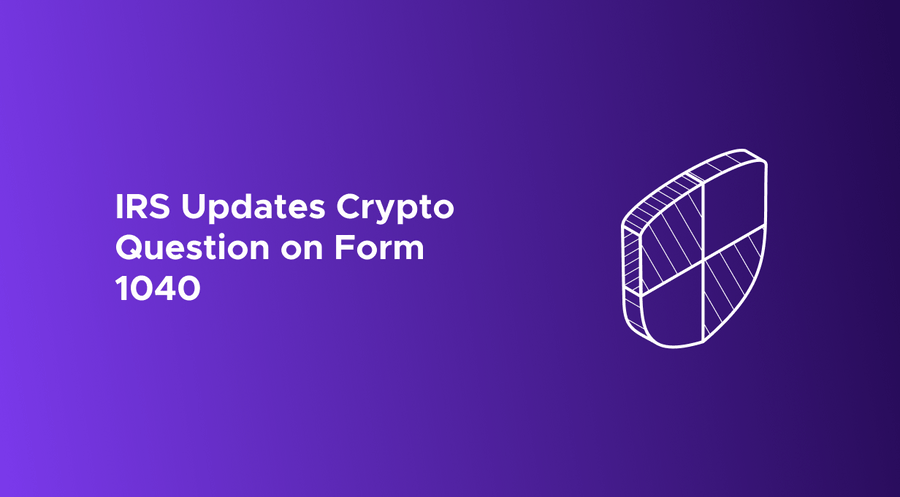 Last Updated: September 21 2023
IRS updates crypto question on Form 1040
The Internal Revenue Service (IRS) has proposed an update to a question regarding crypto asked on Form 1040, the tax form required by all US taxpayers to file as part of their annual income tax return.
For the tax year just passed, the question on Form 1040 read as "At any time during 2021, did you receive, sell, exchange, or otherwise dispose of any financial interest in any virtual currency?"
The IRS clarified in their frequently asked questions section on their website that, for 2021 tax returns, if your only transactions involving virtual currency during 2021 were purchases of virtual currency with real currency, you are not required to answer "yes" to the Form 1040 question, and should, instead, check the "no" box.
The newly proposed addition to the Form 1040 now reads: "At any time during 2022, did you: (a) receive (as a reward, award, or compensation); or (b) sell, exchange, gift, or otherwise dispose of a digital asset (or a financial interest in a digital asset)?". This update presumably aims to more thoroughly cover new types of activity arising in the crypto space. The rewording of 'virtual currency' to 'digital asset' could be seen as a move to encompass all forms of digital assets including cryptocurrencies, such as NFTs. The inclusion of 'reward' and 'award' could be read as a nod to the increasing popularity of staking reward programs, and play to earn games.
All in all, this update shows that the IRS is attempting to adapt to the constantly shifting landscape of the crypto industry. While it's yet to be determined whether the draft will be solidified for use in the next tax season, it can be assumed that more information will be released by the IRS in the future.
Disclaimer: The content of this guide is for general informational purposes only. It is not legal or tax advice. Viewing this guide, purchasing or using CryptoTaxCalculator does not create an attorney-client relationship or a tax advisor-client relationship.
The information in this guide represents the opinions of experienced crypto tax professionals; however, some of the topics in this guide are still subject to debate amongst professionals, and tax authorities could ultimately release guidance that conflicts with the information in this guide. The information contained in this guide is based on the authors' interpretation of current guidelines. Changes to the guidelines may be retroactive and could significantly alter the views expressed herein. Therefore, use this information at your own risk and for information purposes only.
Consult a professional regarding your individual tax or legal situation.
Die auf dieser Website bereitgestellten Informationen sind allgemeiner Natur und stellen keine Steuer-, Buchhaltungs- oder Rechtsberatung dar. Es wurde ohne Berücksichtigung Ihrer Ziele, finanziellen Situation oder Bedürfnisse erstellt. Bevor Sie aufgrund dieser Informationen handeln, sollten Sie die Angemessenheit der Informationen im Hinblick auf Ihre eigenen Ziele, Ihre finanzielle Situation und Ihre Bedürfnisse prüfen und professionellen Rat einholen. Cryptotaxcalculator lehnt alle ausdrücklichen oder stillschweigenden Garantien, Verpflichtungen und Gewährleistungen ab und haftet nicht für Verluste oder Schäden jeglicher Art (einschließlich menschlicher oder Computerfehler, fahrlässig oder anderweitig, oder zufällige oder Folgeverluste oder -schäden), die sich aus oder in ergeben Verbindung mit, jeglicher Nutzung oder dem Vertrauen auf die Informationen oder Ratschläge auf dieser Website. Der Benutzer muss die alleinige Verantwortung im Zusammenhang mit der Verwendung des Materials auf dieser Website übernehmen, unabhängig von dem Zweck, für den diese Verwendung oder Ergebnisse verwendet werden. Die Informationen auf dieser Website ersetzen keine fachliche Beratung.