What is a crypto ETF?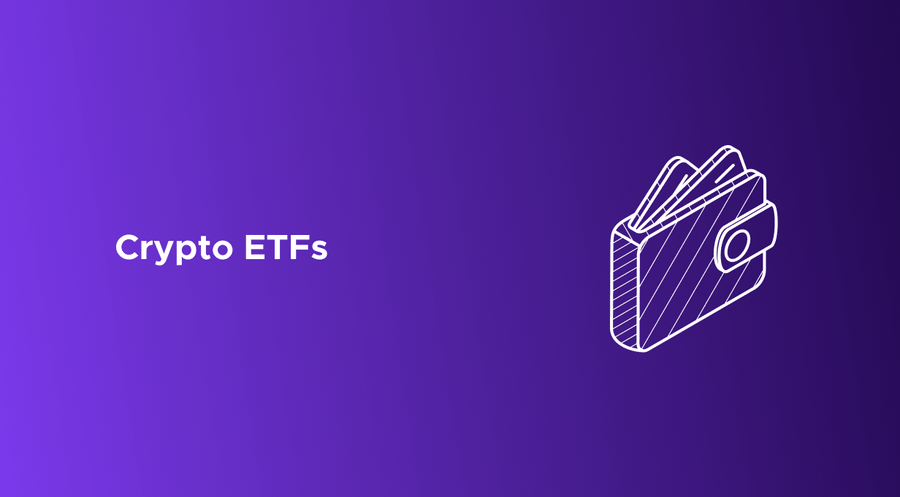 Last Updated: September 29 2023
Traditionally, an exchange traded fund (ETF) tracks an index, commodity or asset. Recently, more and more cryptocurrency ETFs have sprung to life in the industry. A cryptocurrency ETF differs from a traditional ETF in that it tracks the price of one or more digital tokens.
What's the point of a crypto ETF?
So you may be wondering, what the point of a crypto ETF is. Why not just invest normally in a digital token? ETFs - both traditional and crypto - offer investors exposure to markets with the potential of a reduced level of risk. In a crypto ETF's case, it offers investors a way to engage with what is societally known as an extremely volatile asset class.
How do crypto ETFs work?
Typically, crypto ETFs function in one of three ways.
Physically-backed crypto ETFs: This is a type of crypto ETF in which the actual tokens are held by the fund, and investors in the ETF indirectly own a portion of the held assets without any of the ramifications of owning them directly. This type is sometimes referred to as an 'active' ETF.
Futures-backed crypto ETFs: This is a type of crypto ETF in which no assets are held by the fund, but rather the fund has engaged with futures contracts to get exposure to the asset's price.
Smart contracts automatically execute actions when conditions are met on the blockchain. Smart contracts can be used for decentralized futures trading, whereby you can commit to buy or sell an asset at a predetermined price at a specific time via the blockchain. These contracts vary in value due to speculation on the underlying asset's value, allowing the ETF to track the price of the asset without holding it. This type is sometimes referred to as a 'passive' ETF.
Industry-based crypto ETFs: This is a type of crypto ETF in which instead of investing in digital tokens, the ETF invests in the stocks of blockchain-native companies. This type is also sometimes referred to as a 'passive' ETF.
What are examples of crypto ETFs?
Bitwise: Bitwise is a passively managed ETF that tracks the performance of their Crypto Innovators 30 Index. This ETF falls into the 'industry-based crypto ETF' definition above, as they only include companies that generate at least 75% of revenue from cryptocurrency, or have 75% of their net holdings in Bitcoin or another crypto asset in their index.
Global X Blockchain ETF: Similar to Bitwise, Global X Blockchain ETF (BKCH) is a passive ETF that invests in companies heavily-involved in the blockchain industry. This too would fall into the 'industry-based crypto ETF' definition above.
Grayscale Ethereum Trust: Grayscale Ethereum Trust is solely and passively invested in ETH, enabling investors to gain exposure to ETH in the form of a security while avoiding the challenges of buying, storing, and safekeeping ETH, directly. As Grayscale holds the tokens that investors are engaging with via the ETF, it would fall into the 'physically-backed crypto ETF' as defined above.
How are crypto ETFs taxed?
For taxation purposes, crypto ETFs are not treated the same as other blockchain-based assets because they are traditional assets traded in traditional markets. As an example, Grayscale allows sophisticated investors to trade their assets for the same portion of crypto ETF shares, but these shares have a cliff as well as a vesting period. In most cases, ETFs won't allow the investors to trade in their assets for the underlying crypto asset either.
If an individual uses crypto to purchase crypto ETFs, in some regions this may be seen as a buy and/or a disposal event. We recommend talking to a local tax professional to determine what is the correct approach for your personal circumstances.
Disclaimer: The content of this guide is for general informational purposes only. It is not legal or tax advice. Viewing this guide, purchasing or using CryptoTaxCalculator does not create an attorney-client relationship or a tax advisor-client relationship.
The information in this guide represents the opinions of experienced crypto tax professionals; however, some of the topics in this guide are still subject to debate amongst professionals, and tax authorities could ultimately release guidance that conflicts with the information in this guide. The information contained in this guide is based on the authors' interpretation of current guidelines. Changes to the guidelines may be retroactive and could significantly alter the views expressed herein. Therefore, use this information at your own risk and for information purposes only.
Consult a professional regarding your individual tax or legal situation.
The information provided on this website is general in nature and is not tax, accounting or legal advice. It has been prepared without taking into account your objectives, financial situation or needs. Before acting on this information, you should consider the appropriateness of the information having regard to your own objectives, financial situation and needs and seek professional advice. Cryptotaxcalculator disclaims all and any guarantees, undertakings and warranties, expressed or implied, and is not liable for any loss or damage whatsoever (including human or computer error, negligent or otherwise, or incidental or Consequential Loss or damage) arising out of, or in connection with, any use or reliance on the information or advice in this website. The user must accept sole responsibility associated with the use of the material on this site, irrespective of the purpose for which such use or results are applied. The information in this website is no substitute for specialist advice.